It's been an eventful couple of days for crafty goodness here...
Next week I'm going on a long Memorial Day weekend trip. Well, it suddenly occurred to me yesterday that I don't have anything small or simple on the needles! No socks or hats or dishrags or anything. It's all sweaters, shawls, afghans, lace, etc. And of course this calls for new yarn, right? In my defense the stash was all in storage. So I was poking around online then considering a trip to the LYS (over an hour away) when it occurred to me that we have an LYS here in town now! So I made my first visit to
Coastal Knitting
. It was a very pleasant experience. Finding parking downtown is a bitch but I finally found a spot not too far away (thankfully, since I had to go feed the meter a couple times because I spent too long fondling yarn). The owner, Judy, is lovely. She was very nice to chat with and helpful. I'm looking forward to some advanced classes this summer. Then I had a nice lunch down the street while she wound my haul for me.
I ended up getting some Berroco Ultra Alpaca Fine for some experimental magic loop socks for the trip. I loves me some Ultra Alpaca so I have high hopes for the lightweight version.
I also picked up some Cascade Heritage sock yarn to make the Skull Isle Socks from Stitch 'n Bitch Superstar Knitting. Today I decided to start with the Skull Isle Hat first since I've only toyed around with stranded knitting once or twice. I have a better chance of ending up with a hat that fits someone around here than if the socks go awry. Between my mom's smallish head and my brother's big ol' curly topped pouf there's bound to be someone who can wear the hat... I hope. Of course now my mom wants the mittens so I may end up getting more yarn and making the whole set. ;-P
I also got a pink skein of Heritage to swatch for the Dockside Cardigan from the latest IWK. And a couple half priced balls of Knit One Crochet too Ty-Dy Sock yarn in a cammo color. Irresistible.
Oh, and 16" and 24" HiyaHiya stainless steel circs. Today I used those to teach myself 2-circ small circumference knitting and start swatching for the hat. So har I like them. And I love the price (half the price of Addis). I'm not sure how much I'd love the cord for magic loop but It's good for anything else. It's nice and flexible and doesn't loop up or anything but isn't quite as soft as the Addi or Knit Picks cables. Better than anything else I've tried though.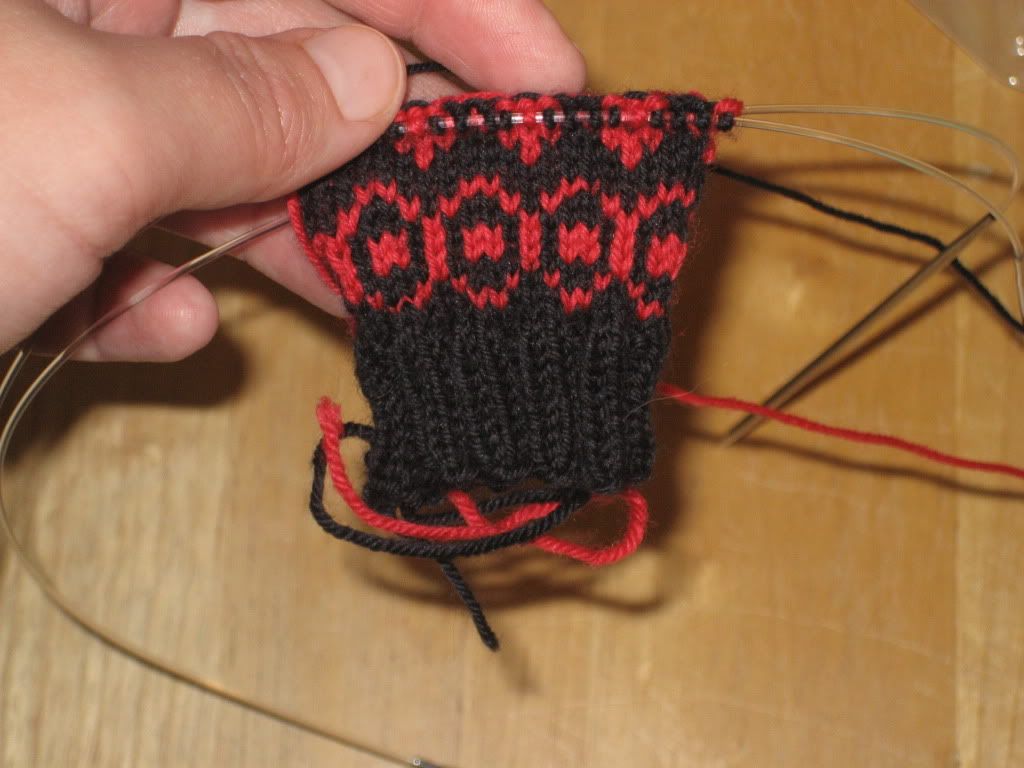 I hope to have both the hat and the magic loop socks on the go by the time I leave Thursday so I'll have one simple(ish) project that I can knit in the car and one more interesting one I can do if I have a little more downtime at some point.
Also, today I taught my momma to knit! She loves the washcloths I have her for Christmas and asked if I I thought she could make one. Well that's all the invitation I needed to get some needles in her hands. ;-) She said "I can't learn to knit! I just want know how to make washcloths!" Lol. I tried to convince her it was not that hard and kinda like 'crocheting with sticks' (since she used to crochet a little) but she didn't believe me. I got her going with my favorite US 8 bamboo straights and some Cotton Ease in her favorite lime green color this afternoon and she was truckin' right along on a garter stitch cloth in no time. I cast on for her because that would have been too intimidating but otherwise she picked it up quickly. I'm thrilled because I've wanted her to try it for ages but she's convinced she can't learn things like that.
And finally, to give myself a break after working on the fair isle this afternoon I picked up my spinning again but unfortunately my spindle had gotten too overloaded to continue on through the last ounce or so, so I transferred it to my new niddy noddy:
I also spent an undisclosed amount of time inventorying most of my stash and uploading the info and pics to Ravelry. The family seems unfazed by my odd fiber driven OCD-ish behavior at this point so no one asked too many questions when they saw the giant bags of yarn all over the living room and caught me taking pictures of the individual skeins ona taple I set up with a cloth for a uniform background and then typing madly on the computer. Lol.
The biggest upside to this is that now I have a good idea of what I have and how much so I can put it away a little better without having to dig it out and go through everything each time I want to start something or want to know if I have enough of something.
Working on inventorying my needles as well because I have a ton but never know if I have what I need.